1) Give us some background information. Where are you from? Tell us about your family. Tell us about your profession/work. Share your hobbies/passions/interests.
I grew up in Mt. Juliet, went to the University of Tennessee and have lived in Franklin for about 9 years. I am a CPA for a real estate development and property management company. I am a huge animal lover.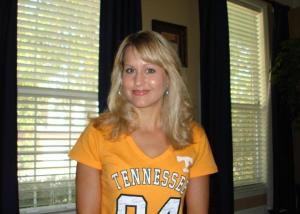 2) What is one fun fact about you?
I HATE cold weather. I'd much rather it be 100 degrees outside than 30 degrees.
3) How did you get interested in triathlons and/or endurance sports? When did you start training for triathlons/endurance races? Which race was your first triathlon/endurance race and where was it?
I was a year-round swimmer from 8 – 15 years old and then a runner just to stay in shape. I had done a lot of running races, but was ready for a new challenge. So I bought a bike and did the Cedars of Lebanon race in the fall of 2009 as my first triathlon.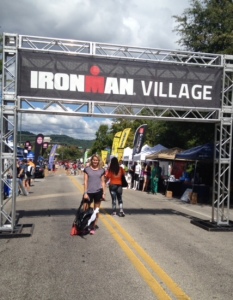 4) Which of the following is your strongest and weakest discipline and why: swimming, biking or running?
Swimming and running are probably equal as my strongest due to my background. Biking is definitely my weakest since I just started biking when I decided to compete in triathlons. Lots of room for improvement on the bike!
5) What obstacles, if any, have you overcome in order to train for and race in triathlons and/or endurance sports?
Mainly just having the time and energy to devote to training. And the typical endurance athlete injuries…stress fracture, broken collar bone, IT Band issues.
6) What is your most memorable/favorite triathlon or endurance race and why?
The most memorable has to be Ironman Chattanooga as it was my first Ironman. And I always enjoy Mach Tenn because to me it signifies the start of the triathlon season.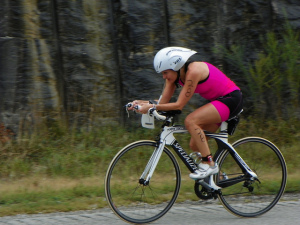 7) What races are you planning for/training for in 2015?
Chattanooga 70.3, Mach Tenn, Music City, probably another 70.3 and several more local races.
8) What's one piece of equipment/gear that you can't live without?
Chapstick and diet coke. Nothing tastes better than a diet coke after (or during) a long, hot ride.
9) How long have you been a BEAT member? Why did you join BEAT and what is your favorite thing about the club?
I just joined this year. I knew BEAT did a lot of fun things, such as the winter challenge, and I wanted to be a part of that. Good motivation and a chance to meet a lot of like-minded people.
10) If you could give one piece of advice to a beginner triathlete or endurance racer, what would it be?
It's so easy to get caught up with training enough, having the best gear and being competitive. You just have to put it all in perspective and remember that it is a hobby for most of us, so make sure you enjoy it.
11) Any last words for us?
Being a new member, I don't know that many of you. Please come say "hi" at the races!