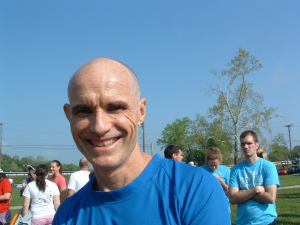 1) Give us some background information. Where are you from? Tell us about your family. Tell us about your profession/work. Share your hobbies/passions/interests.
My family and I are originally from Johannesburg, South Africa and moved to the USA on the 1st of January 2002. We landed in Houston, TX and moved to Nashville in 2003. I am a very fortunate man, I have an amazing family.
My lovely wife Linda and I met 25 years ago in a very small town in the Eastern Transvaal called Bethal. We were on opposing Polo Crosse teams – I saw her on the side of the field and she took my breath away! We met at the after party and the rest, as they say, is history!
We have been blessed with two amazing children, our eldest Tracey is in her junior year studying nutrition at UTK and my son Sean is a freshman studying Engineering at UTK. Both of them have taken to this endurance sport following and make us very proud.
I guess its true to say that our families have a history of endurance sports. When I was growing up both my parents were avid runners and my mom was one of the top masters runners in the region. Linda's side of the family also has a lot of history in Endurance sports, Her dad has his triple gold Comrades number – in other words he has completed the Comrades Ultra marathon 30 times along with 7 Ironman events and countless marathons. Now I need to put this in context for you, they were competing when there was no professionalism in endurance sports, no aid stations on the side of the road, no fancy bikes or watches or even spandex and when Adidas was still called Tiger and you resoled your shoes yourself.
That raw grassroots hardcore approach is what intrigues me about the sport, and what got me hooked on endurance sports.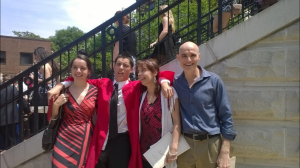 I am a Chemical engineer and work for a company called Akzo Nobel here in Nashville. Outside of triathlon and running I have become an avid Predators fan, I love working with my hands be that working with my son to rebuild his car or doing carpentry projects on the living room table.
2) What is one fun fact about you?
Well, one fun fact about me – I was not always this size. I used to weigh 220lbs back when I still lifted weights and was obsessed with being "huge", then work got in the way of fun. I continued eating like a horse, did precious little training and pretty soon I was a fat 220lbs. Running saved me!
3) How did you get interested in triathlons and/or endurance sports? When did you start training for triathlons/endurance races? Which race was your first triathlon/endurance race and where was it?
My endurance sports history goes back a couple of decades. I started running with my dad when I was 12 years old…but at that tender age I probably went too far too soon and I took a 10 year hiatus.
When I met Linda, her dad influenced me to get back into running. One evening around the dinner table back in 1991 we decided we were going to enter a team triathlon. I will never forget that experience; it was hosted in a place called Leeuwkop [The Lions Head] in Kyalami, South Africa. I was the swimmer, a friend was the cyclist and Linda was the runner. But I was so ill prepared for the event it was pitiful. I arrived for the swim in a pair of "baggies" and by half way through the swim I was doing on my back frog kicking. A long time after the start I beached myself on the shore…I was almost the last person out of the water!!! Our cyclist did not fare much better and thank goodness Linda was a better runner than I was a swimmer to save us from being the completely last place.
4) Which of the following is your strongest and weakest disciple and why: swimming, biking or running?
In spite of the previous story, I am a reasonably decent swimmer but my passion is running and especially trail running. For me there is nothing better than to lose myself on a soft trail in the woods away from all the electronics, cars and the hustle and bustle of life. As a good friend of mine said, there is no better way to empty your hate glands!
Biking is my weak link. I don't spend nearly enough time on the bike and frankly I would rather be running trails than riding a bike.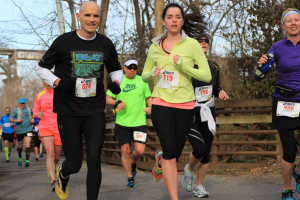 5) What obstacles, if any, have you overcome in order to train for and race in triathlons and/or endurance sports?
Obstacles…oh that's funny…my obstacle is laziness. I have found that the best way to overcome that obstacle is to get myself into a group training session. Nothing motivates you like avoiding a shaming from your friends if you bail on a workout!
6) What is your most memorable/favorite triathlon or endurance race and why?
I have to say training for Ironman Florida – I spend many hours with my closest friend Ken. It was a fantastic experience. My most memorable race was the Mountain Mist 50K trail run. Its an amazing race and I would encourage anyone who has not tried a trail run to get that onto your bucket list. Its truly about endurance and the people are very grounded. No fancy spandex, GPS watches, multi-thousand dollar bikes – just tough people and nature.
7) What races are you planning for/training for in 2015?
For 2015…its already been a busy year! I have done my second Mountain Mist, the Ghost half marathon and the Frostbite half marathon. I have another 3 trail runs including another 50K.
My triathlon schedule includes the Lake Guntersville Triathlon, Mach Tenn and Rocketman.
8) What's one piece of equipment/gear that you can't live without?
I am not big on technology and gear, you will never see me race with a watch. I don't keep a training journal and my bike is over a decade old…I like it that way.
I cannot live without a good pair of socks and decent running shoes.
9) How long have you been a BEAT member? Why did you join BEAT and what is your favorite thing about the club?
I have been a BEAT member from the beginning…I heard from a great friend Richard Baker. He told me this crazy lady Janet Byers was moving to the area and wanted to start a Tri Club here in Brentwood. Crazy lady – triathlon…I signed up at the first opportunity!
What do I love most…the people and the opportunity to give back a little of what I have received from the sport.
10) If you could give one piece of advice to a beginner triathlete or endurance racer, what would it be?
It's so easy to get caught up in the fashion of this sport. The flashy bikes, the sexy spandex, the sleek aero helmets all the latest and greatest GPS watch that realigns the satellites. Here's my 2c worth…keep it simple! The gear is nice – but not nearly as important as preparing well, eating wholesome food and above all ENJOYING yourself.
11) Any last words for us?
Thanks for the opportunity to share a little of my family and myself with you.
Come join me for track work on Tuesday mornings and above all else – enjoy the suffering!