1) Give us some background information. Where are you from? Tell us about your family. Tell us about your profession/work. Share your hobbies/passions/interests.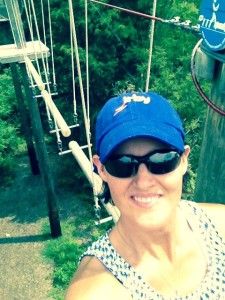 I grew up in Michigan where I married Jeff, my high school sweetheart. Although we have lived in the Nashville area for over 15 years now, people still ask where I'm from when I talk. I am one of those brave and crazy souls that teaches middle school math. I'm also lucky enough to serve as Dance Mom for Nora, my very own middle school daughter. My son, Corbin, is a vivacious 8 year old that enjoys competitive gymnastics. We like playing outside, going on family hikes and singing as often as possible.
2) What is one fun fact about you?
I sang with the award winning Metro Nashville Chorus for the past three years. They perform a cappella (Barbershop) music, with fun performances that mix in some theatrics. (Check them out at metronashvillechorus.org )
3) How did you get interested in triathlons and/or endurance sports? When did you start training for triathlons/endurance races? Which race was your first triathlon/endurance race and where was it?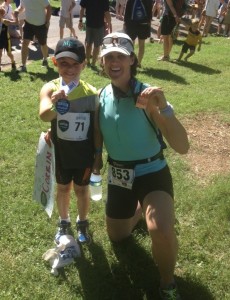 I WAS TRICKED! Waving a brochure from school, my son begged me to sign him up for the 2014 Nashville Kids Triathlon. When I obliged, the registration followed with a suggestion that Mom do "Girls Tri-it-On" too. OK – just to be a good role model, I signed up. With my 7 year olds encouragement and partnership, I trained for the next two months with the hopes that I wouldn't embarrass him or myself too badly. When I crossed the finish line in Centennial Park that day, I felt the most amazing sense of accomplishment and was simultaneously hooked. An hour later, I was surprised to find out that I had finished well enough to be announced by name and win some fantastic prizes including a hand-crafted "Medal" necklace and a Tri Suit. It was a short race, but fantastic!
4) Which of the following is your strongest and weakest discipline and why: swimming, biking or running?
I'm moderately capable of all three, but running is the most intimidating for me. I'm not necessarily a fast swimmer, but it just feels right to be moving in the water and I will label that as my strength for now. My husband and I always enjoyed biking together in our earlier years, but I am just now getting back into biking shape. I kinda answered that like a politician, didn't I?
5) What obstacles, if any, have you overcome in order to train for and race in triathlons and/or endurance sports?
Convincing myself that I have time and energy to train has been the hardest part. Now that I have learned to start my day with my planned workout, I am making better progress. Getting over "mental excuses" has been the key to moving forward for me.
6) What is your most memorable/favorite triathlon or endurance race and why?
The 2014 Girls Tri-it-On in Nashville – it's the ONLY one I've done (as of March 2015) and it was absolutely awesome!
7) What races are you planning for/training for in 2015?
I am signed up for two Sprints so far: Cedars of Lebanon (TN) in May and the Buster Britton Memorial (AL) in June – marking my first open water swim. I have my sights on two or three more, including the Music City Tri. Ultimately, I would like to compete in an Olympic Triathlon before turning 40 in 2016.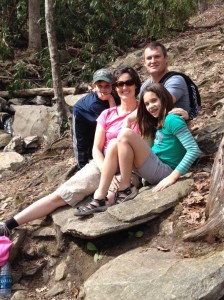 8) What's one piece of equipment/gear that you can't live without?
My SwiftWick Socks. Who knew?
9) How long have you been a BEAT member? Why did you join BEAT and what is your favorite thing about the club?
I signed up less than a month ago because I was advised to "find my tribe." After attending the annual meeting in January, I knew that I was surrounded by a supportive group, very diverse in their areas of expertise and levels of experience. Within the first two weeks, I had joined Richard's run groups and been offered a free nutrition consultation. I'm most looking forward to the various workshops that will be offered throughout the training season to help me learn the ropes and just get better!
10) If you could give one piece of advice to a beginner triathlete or endurance racer, what would it be?
Sign up for a race and THEN figure out how you're going to get to the starting line. I learned with the Tri-it-On that getting to the starting line is harder than getting to the finish line.
11) Any last words for us?
If I can do it, you can too. I am so grateful for this new circle of support I have found in BEAT.