1) Give us some background information. Where are you from? Tell us about your family. Tell us about your profession/work. Share your hobbies/passions/interests.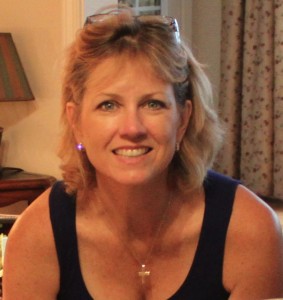 I was born in New York City and grew up on Long Island. I moved to Nashville in 1988 on a complete whim for a job and met my husband, Mike the same year. We have two teenage boys, Ryan and Michael. Ryan is a freshman at Birmingham Southern College and Michael is a high school junior.
I am a self-employed actuary and absolutely love what I do. Yes, I am a math nerd! I love to travel, snow ski, water ski, and work out.
2) What is one fun fact about you?
I am a big Duke basketball fan. My mother only marries Duke men! Both my father and stepfather went to Duke. Another fun fact – they are from the same town, Lynbrook, NY (where "Everybody Loves Raymond"), and went to high school and college together. I have gone to the Final Four twice – 1999 and 2004 to watch them lose to UConn twice. Needless to say, I am NOT a UConn fan.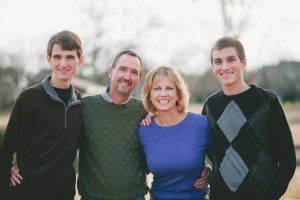 3) How did you get interested in triathlons and/or endurance sports? When did you start training for triathlons/endurance races? Which race was your first triathlon/endurance race and where was it?
I got interested in marathons and long distance bike rides in the mid-late 90s. One of the ladies in the Y locker room talked about wanting to do a marathon before she turned 40. I thought a marathon was much too far and impossible for me. I wasn't a runner. But when the inaugural Country Music Marathon was announced in 1999, I thought I'd give it a shot and started training for it. I talked to my brother-in-law that had done several marathons and he gave me suggestions on how to train. I loved the experience and did two more in the next five years. I also did the Jack and Back bike ride a couple of times in that time period.
4) Which of the following is your strongest and weakest discipline and why: swimming, biking or running?
Running is my strongest and swimming is definitely my weakest. I used to swim laps in college, but hadn't swam in 30 years. I have discovered that I really like swimming, but I am incredibly slow. Actually, I am an incredibly slow runner too. My whole purpose is to participate and finish. Time is not something that concerns me.
5) What obstacles, if any, have you overcome in order to train for and race in triathlons and/or endurance sports?
I tore my ACL snow skiing in 2000 and it can ache when I run too far and too often. I also injured my foot back in 2010 playing with my dog and haven't done anything longer than a 10k since. It took several years to heal. I am hesitant to aggravate those injuries. I hate when I can't work out.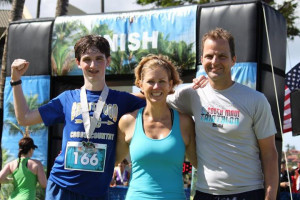 6) What is your most memorable/favorite triathlon or endurance race and why?
Well, the secret's out – I have never done a triathlon! I did do an Olympic distance relay in Maui back in 2012. My brother-in-law did the swim, I did the bike, and my oldest son Ryan did the run. I used my sister's bike which was quite comical. It was a Schwin that a lot of the racers noticed and made encouraging comments about as they zoomed past me! I know I had the longest time of any bicyclist in that race!! After I was done, I was "hooked". I came home and signed up for BEAT. Though, life has gotten in the way since and this year I have decided that I am going to do a triathlon!
7) What races are you planning for/training for in 2015?
I want to do a sprint and my goal is to do an Olympic distance. I haven't signed up yet as my youngest sister eloped last month and they are planning a reception with a date that has yet to be determined. I know if I sign up for something, that will be the weekend of the party!
8) What's one piece of equipment/gear that you can't live without?
I just got a "real" road bike and I love it! I had been using my son's very inexpensive road bike the last couple of years and it was so slow that I really couldn't ride with others.
9) How long have you been a BEAT member? Why did you join BEAT and what is your favorite thing about the club?
I joined BEAT right after the Maui race, so I have been a member for 3 years. Though, I have not been involved at all, but I will this year! My favorite thing is the USAT/BEAT winter challenge. This is my second year. Last year I got the 1,000 mile t-shirt and this year my goal is 2,000 miles.
10) If you could give one piece of advice to a beginner triathlete or endurance racer, what would it be?
I think I should be asking that question!! Just set a goal and give it a try.
11) Any last words for us?
Are you sure you want to put me as a member spotlight? (BEAT's answer: Absolutely!)