1. Give us some background information.  Where are you from?  Tell us about your family.  Tell us about your profession/work.  Share your hobbies/passions/interests.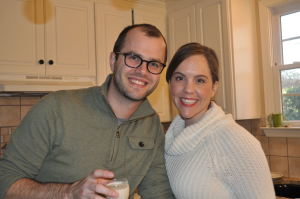 I grew up in Northern Virginia and went to University of Tennessee, Knoxville where I got a B.S. in Nursing and met my very handsome husband, BEAT president, Joe Fleenor.  We have two children, Madeleine (22 months) and Franklin (5 months), a beagle-mutt, Callie, and one-eyed cat, Uno.  I have worked as a Cardiac nurse, Nursing manager, and currently work as a Process Improvement Coordinator, facilitating projects to increase patient safety for Saint Thomas Health.  I love celebrity gossip, cooking and live music.
 2)  What is one fun fact about you?
In college I was in a sorority (Alpha Chi Omega), ROTC (almost became an Army Nurse), and The Pride of the Southland Marching band (played the baritone).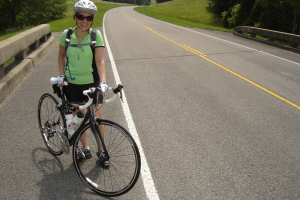 3) How did you get interested in triathlons and/or endurance sports?  When did you start training for triathlons/endurance races? Which race was your first triathlon/endurance race and where was it?
Living with someone who is as passionate about triathlons as Joe, it's hard to not be bit by the bug.  I saw the transformation in him as he found the sport and look forward to sharing the passion.  My first half marathon was the Country Music 1/2 Marathon in 2006 and was completely untrained and unprepared.   In 2010 I trained and finished over an hour faster… and a lot less sore!
4) Which of the following is your strongest and weakest discipline and why: swimming, biking or running?
Biking is the most challenging disciple for me due to the time commitment for long rides.  Swimming is where I'm most comfortable since I've been swimming since I was 5.  I am a "slow and steady finishes the race" competitor, but am hoping as I ramp up training after slacking off the past few years to work most on my running speed.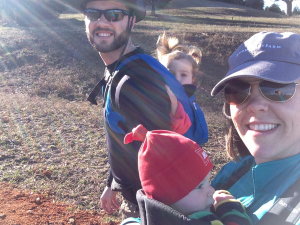 5) What obstacles, if any, have you overcome in order to train for and race in triathlons and/or endurance sports?
The biggest obstacle I face now is TIME.  Working full-time, 2 kids under 2 years old, and a husband training can make scheduling a challenge.
6) What is your most memorable/favorite triathlon or endurance race and why?
Tom King 1/2 Marathon – Had my best results there!
7) What races are you planning for/training for in 2015?
For my first triathlon I am planning to do the Cedars of Lebanon Triathlon.
8) What's one piece of equipment/gear that you can't live without?
Food 🙂
9) How long have you been a BEAT member?  Why did you join BEAT and what is your favorite thing about the club?
I just joined BEAT this year and as a new member I look forward to the knowledge, motivation, and support from fellow members.  I love the sense of camaraderie that the club seems to have and that finish times aren't what's important, but rather the personal journeys that everyone takes.
10) If you could give one piece of advice to a beginner triathlete or endurance racer, what would it be?
Being a beginner triathlete, I'm interested in hearing others advice.