1) Give us some background information. Where are you from? Tell us about your family. Tell us about your profession/work. Share your hobbies/passions/interests.
I am originally from Harrisburg PA and arrived in Nashville in 1987 from Tucson where I had been working for IBM. I am currently still employed by IBM in a sales capacity. I am married to Karen and have 2 daughters, 3 grand daughters and 1 grandson on the way.
Aside from Tri I enjoy shooting pistols, driving fast cars and reading.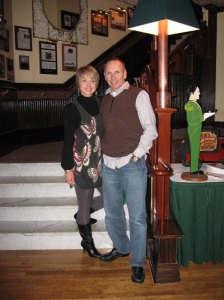 2) What is one fun fact about you?
I had a Bi-Ventricle pacer maker implanted Feb 2014 for Stage 4 Heart Block. In June '14 I finished 7th AG at Eagleman 70.3, July I was 4th AG at Muncie 70.3, and in Sept I was 7th AG at Lake Stevens 70.3 in Washington. I am also in the USA Triathlon Century Club with over 128 multi-sport events.
3) How did you get interested in triathlons and/or endurance sports? When did you start training for triathlons/endurance races? Which race was your first triathlon/endurance race and where was it?
I have no formal training in any sport although I did play high school football. I picked up tennis but abandoned it in 1989. I began running at that time and one of my peers at work convinced me to buy a bike and try Duathlons. I became a quick learner and was a good cyclist from day 1. In a short while, another acquaintance asked me to be the rider in a Tri relay. From that day on I was determined to be a Triathlete.
To start, I needed to teach myself to swim, first day I completed 4 lengths (100yds) and had to use a pool where I could touch bottom – just in case I couldn't make it to the end of the pool. It took a while but I am very good at visualization and between reading and watching others I got the hang of it and was swimming as much as 2K per swim 3x per week in a couple months.
My first tri was about 9 mos later at Memphis in May. That first year I raced 8 or more tri's and continued to race that number of races for a few years. Someti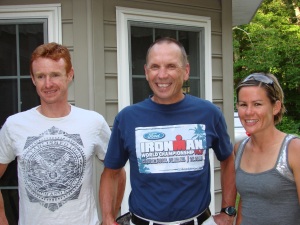 me in the late 90's I took a challenge from one of my tri buds and signed up for The Great Floridian (iron distance). I trained about 8 weeks and completed that race under 12 hours and finished 10th in the age group. It was at that point I wanted to see if I was capable of winning an age group or going to nationals or who knows.
Around 2000 I decided to do the "big" races so I raced St Croix, Buffalo Springs, Muncie, Florida and other races where I knew the best folks were heading. I really enjoy the racing where I know who is there and having some purpose or challenge to the race.
4) Which of the following is your strongest and weakest discipline and why: swimming, biking or running?
I feel biking is my strong suit but the numbers seem to indicate I am consistent across the 3 sports. In my age group I am usually top 10 in the swim, top 5 bike, and top 10 run. When I have a bad swim then the day just seems to go flat.
5) What obstacles, if any, have you overcome in order to train for and race in triathlons and/or endurance sports?
Everyone these days likes to talk about obstacles. I never thought about issues, I just trained when I could and a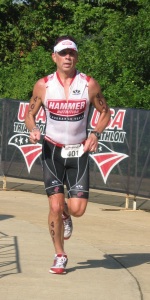 lways strove to be better at each race. If there was an obstacle it would be work and occasional travel. It is never easy to be out of town and using a hotel gym or running in unfamiliar territory alone.
Oh yea, the pacemaker last year was a BIG obstacle but now that the techs have it programmed right things seem to be ok!!
6) What is your most memorable/favorite triathlon or endurance race and why?
I was lucky in 2006, I was picked for a lottery slot and raced the Ironman Championship. By far it is the race of races. There is so much hype around the race your heart is pounding before you even get there!!!
7) What races are you planning for/training for in 2015? Chattanooga 70.3 and Eagleman 70.3 for now.
8) What's one piece of equipment/gear that you can't live without?
My Trek Speed Concept – been riding trek TT since it was publicly available and use Trek for my winter road ride. Sorry I am very biased!
9) How long have you been a BEAT member? Why did you join BEAT and what is your favorite thing about the club?
I believe I have been a member for a few years. Richard Baker (TriSwami) asked me to join and I have been a member since. Nice to have a local team around to train with occasionally. It's also nice to see all the folks at the meetings and at races.
10) If you could give one piece of advice to a beginner triathlete or endurance racer, what would it be?
Be consistent with your training and then trust your plan when you get to the race. I see so many folks trying to keep up with the Jones. Know yourself and work to be your best.
11) Any last words for us?
Triathlon is a great sport and there is a great camaraderie, Train hard, Race hard, and don't leave anything on the course! Live without regrets!