1.)  Give us some background information. Where are you from? Tell us about your family. Tell us about your profession/work. Share your hobbies/passions/interests.  I am one of those rare native Nashvillians. I was born and raised here and the only time I have lived elsewhere was when I was in college. I have a beautiful wife of 33 years, Jan, whom I met on a blind date in college and a son Brad (also triathlete) and daughter Jennifer (soon to be triathlete at Riverbluff this summer). They have blessed me and Jan with 4 incredible grands whom we adore and love to spend time with. We hope to get them involved in the Nolensville Kid's Tri this summer.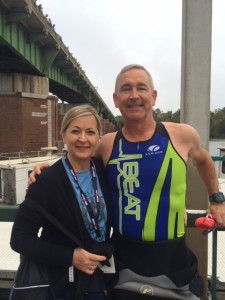 I am a professional engineer by day designing mechanical, electrical and plumbing systems for buildings. By morning, I am an extremely amateur athlete slipping and sliding through trail runs in the woods (right Richard K?) or riding with Melvin at the crack of dawn or swimming at the Y. My hobbies really center around this sport of triathlon. But I also enjoy golf when my shoulders cooperate and spending time on the lake boating, skiing and baking in the sun (sorry Nicole but I use lots of sunscreen). The lake will be a priority this summer for us so no long races have been planned so I can take a Saturday off to go boating and not feel guilty.
2.)  How did you get interested in triathlons and/or endurance sports? When did you start training for triathlons/endurance races? Which race was your first triathlon/endurance race and where was it?
I stumbled onto triathlon in 2013. I was a swimmer and cyclist in high school (during triathlon's infancy so I didn't know it even existed). But I gave that up as I embraced life – building a career and starting a family. My wife got me a bike a few years ago to help me get active again. So I spent a week riding a lot and quickly realized I needed a proper bike fit. In researching stores that did that, I stumbled onto this sport of triathlon and thought – I can swim, I can bike, I just need to learn to run. So I trained that summer for Riverbluff sprint and was completely bitten by the bug.
3.)  Which of the following is your strongest and weakest discipline and why: swimming, biking or running?
Swimming is by far my strongest. I started swimming competitively when I was 5 and kept that up through high school. I am fortunate not to be intimidated by the swim and I have a tremendous respect for those triathletes who overcome any OW anxieties. I'm not sure I could.  I'm pretty middle of the pack cycling but my weak point is the run. I've been working with Richard Kenmuir on track and trail runs to improve that.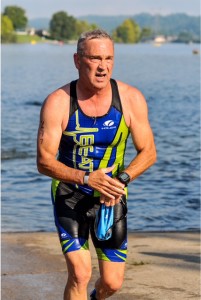 4.)  What obstacles, if any, have you overcome in order to train for and race in triathlons and/or endurance sports?  
In addition to finding time which we all struggle with, injuries have been my nemesis. I've had knee surgery resulting from old wrestling injuries but more recently, I had shoulder surgery last year to repair damage from "overuse" – the doctor's way of telling me I'm getting older. But hopefully, I've identified all of my physical ailments and have them fixed now.
5.)  What is your most memorable/favorite triathlon or endurance race and why?  
I have two. Riverbluff sprint was my first triathlon and the adrenaline rush was like nothing I had experienced before. But also there was Augusta 70.3 in 2015. Aside from the fact that it was my one and only race in 2015 post shoulder surgery, the entire venue was fantastic. Plus I got to race with fellow BEAT members which made all the difference. The downhill swim makes you feel like an Olympian and the bike course was awesome for someone who trains hills in Middle Tennessee. But the crowd support from the spectators in South Carolina on the bike and in the city of Augusta as you run through downtown was beyond fantastic. I've never experienced that before.
6.)  What races are you planning for/training for in 2016?
 I'm planning local olympics and sprints this season. Probably MachTenn, Chattanooga Waterfront, Music City, RIverbluff and maybe Fall Creek Falls. Maybe I'll go long in 2017.
7.)  What's one piece of equipment/gear that you can't live without?
 My Garmin. I'm an engineer. I love metrics. I'm not sure it really makes me better, but it's always interesting to analyze the data. Maybe one of our sponsors can help me figure out how all this data can be used to make me faster.
8.)  How long have you been a BEAT member? Why did you join BEAT and what is your favorite thing about the club?  
I joined BEAT in the summer of 2014 after racing with Team In Training (TNT) at Rev3 in Knoxville to raise money for The Leukemia Lymphoma Society. TNT was my first "team" experience which was so vastly different than training on my own like I did for my first triathlon. When it was done, I was kind of lost not having a group to train with. Fortunately, I struck up a conversation with Bob Riddick at ISC one morning and shared my renewed lone wolf status with him. He directed me to Tribeat.org and I've been a BEAT racer ever since.
There are so many great things about BEAT but the thing I like most about this club is the camaraderie and accountability it provides. I've made great friends with whom I love to train and race. Being with a group motivates me to get outside when I otherwise might find an excuse not to. I'm certainly not one of those people who would get up at 4:00 AM to run trails at 5:00 AM in the dark by myself. And sharing a beer with friends after a race is the best reward.
9.)  If you could give one piece of advice to a beginner triathlete or endurance racer, what would it be?
Not sure I'm really qualified since I've only been doing this sport for less than 3 years. But if I have to give one piece of advice, it would be not to ignore core and strength training. It is easy to give it up to make time for the endurance training but you risk potential injury if you do. Plus it will make you faster.
For most of us, don't take this too seriously because we aren't going to make money at this sport. We do this for fun, health and to be with friends. Just enjoy the ride. More importantly, enjoy the people you swim bike and run with.