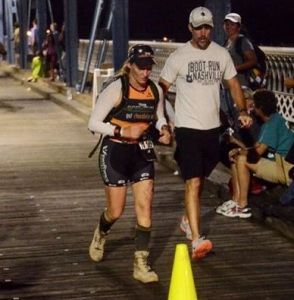 1) Give us some background information. Where are you from? Tell us about your family. Tell us about your profession/work. Share your hobbies/passions/interests.
I'm originally from St. Louis, MO. I've lived in TN since 1999. I have six children (yours, mine and ours) I gave birth to four, inherited two via marriage and have the gray hair of raising all six. We have three grandchildren (from my oldest daughter) and my oldest son has been in the United States Marine Corps for the last four years. Our four youngest children all still live at home, along with our 100-pound American Bulldog – our house is a nut house. My background is as a N.S.C.A (National Strength & Conditioning Association) certified trainer. I've been personal training before there were national certifications for it. I no longer work as a trainer because I'm living my life's passion of writing and philanthropy. I have written two published books; Six Weeks to Skinny Jeans (Rodale), and I ghost wrote a book for my professional strength coach husband, titled Men's Health Workout War (Men's Health), it's being released April 7, 2015.
2) What is one fun fact about you?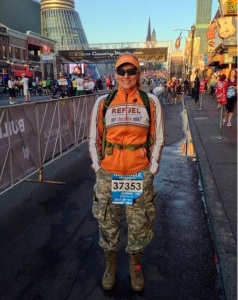 I do all my event in military combat boots
3) How did you get interested in triathlons and/or hich race was your first triathlon/endurance race and where was it?
I was a competitive Mt. biker for about five years but I was always intrigued by the thought of doing triathlons. I never had the courage to do one because I couldn't swim. The thought of learning to swim was too big of a beast to slay. However, at the age of 39 I dared myself to learn how to swim in order to compete in my first Olympic distance triathlon (Irongirl Las Vegas). I did this after learning that two family members were diagnosed with cancer (one was only given weeks to live – she made it a month before she passed). I decided that I would stop whining about what I couldn't do and I would go out and live for them. I signed up for the race and joined the TRI group at Excel. I only had eight months to get over my fear of the water and learn how to "somewhat" swim. Over the course of my eight months of training two more family members and a dear friend were all diagnosed with cancer. Race day was a complete act of faith for me, it the first time I had EVER put my face in dirty water and swam in a lake. I did the race with the names of four family members and friend written on my stomach and "cancer sucks" on my lower back. I made it out of the water and my obsession for getting uncomfortable for a cause was born. After watching my eight month mental transformation, eleven other women joined me at that same race the following year – all of them having overcome their own set of fears and having to learn how to either swim or run themselves. We were all there for our own personal reasons but we also raised money for the Susan G Komen Foundation. We called ourselves "Team TRI Pink."
4) Which of the following is your strongest and weakest discipline and why: swimming, biking or running?
This question makes me laugh. I feel like they are all my weakest! I'm far from strong at any of them, I'm about as fast as pond water, but I show up and I move. I think my mental capacity to endure and embrace the pain cave is my strongest asset.
5) What obstacles, if any, have you overcome in order to train for and race in triathlons and/or endurance sports?
Having the courage to learn how to swim changed my life. I no longer see obstacles, only opportunities. I'm now a pain junky; I will try anything! Like the tattoo on my arm reads, "With pain comes strength."
6) What is your most memorable/favorite triathlon or endurance race and why?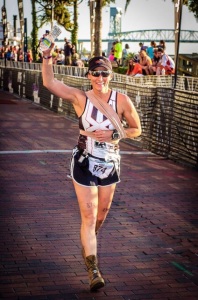 Outside of that first Olympic race and having overcome my fear of swimming – I would have to say my most memorable race with my first ½ Iron-distance race, Beach 2 Battleship in 2012. I busted through the swim, and I was clipping along on the bike, feeling great. Then, BOOM! Just three miles from the bike/run transition I was hit side-on by an SUV. I flew one direction, my bike the other. I landed hard on my left side and was on unable to move. Once I got my bearings and realized what happened my first thought was, "OMG… my brand new bike!" Then reality set in… I was unable to move, and I went through the laundry list of possible injuries. After the EMS arrived I was finally able to move and I refused transport to the ER. I wanted to finish my day. When the female State Trooper rolled my bike over to me to my utter surprised it wasn't a mangled mess, it was perfect! She looked at the USMC sticker on my bike and then at me and said, "Semper Fi." They asked me one last time if I wanted to go to the ER and I replied, "I'm not out here for myself – my son is in the Marines and I'm here for him, I have to keep moving." I realized right then that was the day God had planned for me. He wanted me to show His strength through my spirit to not give up. So, I gingerly mounted my bike and slowly made my way to transition. The entire left side of my body was completely covered with road-rash from my shoulder down to my ankle. My left hip was swelling and extremely painful, and I didn't have use of my left arm. Long story short, I pushed through the pain. I stopped at the first aid station and had my arm put into a sling, an icepack on my hip, and I downed a few Advil, I powerwalked the run course. I finished the race under the cut off time and had the biggest smile on my face when I finished. The support I received on the course from fellow racers, and the post-race medical staff was beyond amazing! I learned so much about myself that day and haven't taken a second of my life for granted since. I came face to face with my own immortality and it was a great wakeup call, it was one of the best days of my life. God was and is so very good! He protected me and sent me many angels along the course and days following the event. I'm forever grateful for that experience.
7) What races are you planning for/training for in 2015?
Bataan Memorial Death March – White Sands Missile Range NM
Country Music ½ Marathon
Chattanooga 70.3
Nashville TRI – sprint
Chattanooga 140.6
Beach 2 Battleship half-iron
REV3 Florida (haven't decided on distance yet)
Thinking about IMAZ or IMFL– but it will depend on if I can get the race bib(s) from my sponsor.
8) What's one piece of equipment/gear that you can't live without? My boots!
9) How long have you been a BEAT member? Why did you join BEAT and what is your favorite thing about the club? 
I've been a member off and on for the last few years, but haven't been active with the group. I tend to be a little shy and a bit of an introvert. I'm completely at home training alone. However, I've decided to challenge myself this year to get out of my comfort zone and do life and train with others. BEAT gives me the opportunity to do that and I look forward to doing life with you all.
10) If you could give one piece of advice to a beginner triathlete or endurance racer, what would it be?
Stop worrying what "you think" other people are thinking or saying about you. Train your own races and race your own races. This journey is yours and no one else's.
11) Any last words for us? 
I would like to invite everyone to do something noble with their racing and make their finisher medals truly matter by participating in Medals of Honor. We give the endurance race community a tangible way to remember, thank and give back to the families who lost loved ones while serving in our military. Through our campaign, racers can compete in honor of a fallen U.S hero and donate their finisher's medal to the surviving family. The medals act as a symbol of bravery, courage, and remembrance. As a predominantly self-funded nonprofit we do not seek monetary donations from either the racers or military families. Our only request is that racers sacrifice their hard earned medals to honor the service, sacrifice, and memory of a fallen hero. It's that simple.
Thank you for the passion and commitment you bring to the endurance race community. As you consider sharing your medal(s) with the family of a fallen soldier, know that your act of generosity will serve as a visual reminder that no soldier gets left behind.
5 Ways You Can Help
1. Go to our website MedalsofHonor.org
2. Nominate a fallen hero to be honored.
3. Register to honor a fallen hero through your racing and donate your finisher's medal to the surviving family.
4. Donate your old medals or military uniform to be repurposed. This is how we fund our campaign we take old and surplus racer medals and repurpose them into items to sell to keep our campaign going.
5. Like us on Facebook: http://www.facebook.com/medalsofhonor