1) Give us some background information. Where are you from? Tell us about your family. Tell us about your profession/work. Share your hobbies/passions/interests.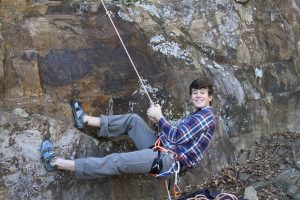 I grew up in Murfreesboro, TN where I graduated with an accounting degree from MTSU in 2012. I grew up in a very active family with a mom who is a personal trainer and dad who pushed me to dive head first into whatever it was I decided to do. I work in Franklin as the Administrative and Accounting Manager of a software development company. I enjoy being outside doing all sorts of things including rock climbing, slacklining, water skiing, wakeboarding, archery, hiking, and of course all of the legs of triathlon.
2) How did you get interested in triathlons and/or endurance sports? When did you start training for triathlons/endurance races? Which race was your first triathlon/endurance race and where was it?
I got interested in doing triathlons in college to stay in shape and give me something to do outside of school and work. I started training for triathlons in early 2010 and did my first race, McMinnville City Triathlon, May 29, 2010.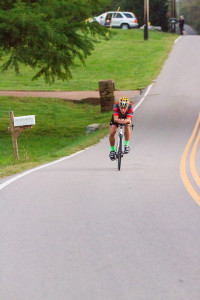 3) Which of the following is your strongest and weakest discipline and why: swimming, biking or running?
My strongest leg is definitely the bike. I thoroughly enjoy being able to get out and see things I wouldn't normally see while driving and get some exercise in, so I genuinely get excited about cycling. My weakest leg is the running. Running has been a love/hate experience for me since high school. I love the way I feel after a run, but the pain I endure in my joints during the run and the days after the run make it hard on me.
4) What obstacles, if any, have you overcome in order to train for and race in triathlons and/or endurance sports?
I don't know that I have had any real obstacles to overcome. Training injuries and mindset are the only worries I have really had to deal with. I have been very fortunate.
5) What is your most memorable/favorite triathlon or endurance race and why?
I really enjoyed a triathlon I completed at Natchez Trace. It was my first open water experience and I was able to podium in my age group.
6) What races are you planning for/training for in 2015?
I am already signed up for ADPiathlon and Chattanooga 70.3. I also hope to complete a full marathon before the end of the year.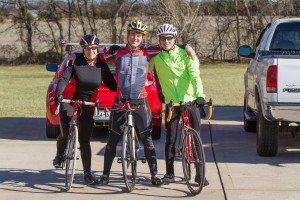 7) What's one piece of equipment/gear that you can't live without?
I can't live without my sunglasses. I am a sunglasses snob and can't stand to be without some sort of glasses while training.
8) How long have you been a BEAT member? Why did you join BEAT and what is your favorite thing about the club?
I have only been a member of BEAT for a couple of months. I joined BEAT to be able to network and train with like-minded people in hopes to make some friends and improve my abilities.
9) If you could give one piece of advice to a beginner triathlete or endurance racer, what would it be?
Don't forget why you are training. It is easy to get caught up in the regiment and daily grind of training for race day. It is that feeling of crossing the finish line and battling it out at the end for a couple more positions that makes the previous days' work all worth it.
10) Any last words for us?
Thanks for the opportunity to be a part of a great community full of really cool people. I have really enjoyed the past couple of months and look forward to all the great things to come.