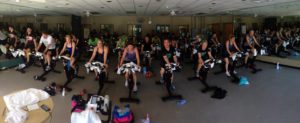 You've heard about the famous "salty balls" that will be at the BEAT Spinathon.  Now, here is your chance to make your very own batch of vanilla or chocolate salty balls!
Ingredients:
1/2 cup natural peanut butter (or any kind of nut butter)
1/3 cup brown rice syrup
1/2 cup whey protein isolate
1/2 cup dry oatmeal
1/4 cup shredded coconut
(If you don't have brown rice sugar, you can substitute honey or maple syrup or agave, though you may want to cut it down to 1/4 c as these are sweeter than brown rice syrup.)
Directions:
Combine all ingredients. If you need a bit more holding power, add a dash of protein powder.
Throw a sprinkle of salt on top and freeze until needed (makes ~10 balls, ~140kcal/ball).
The recipe was created by Stacy Sims, who is a guru in sports nutrition. In 2009 she developed a hydration formula for the Garmin-Slipstream cycling team – that formula became Skratch. Stacy also created Osmo and now has a new company, NBS Nutrition (No BS) developing new hydration products at rock bottom prices.  In other words, she's a rock star in the sports nutrition world.